Please do not come to the Box Office as the New Park Centre is closed to the public.
If you have not returned your tickets yet, please be patient as we will be able to deal with this when we return... although that date is at the moment undefined. We will keep you updated through our mailing list emails and through this website page.
Thank you for your patience and support.
Stay Safe.
FILM QUIZ
Here is a 3-Part quiz to get you through the shutdown.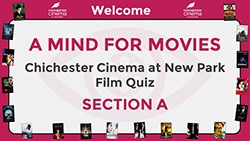 ...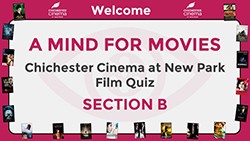 ...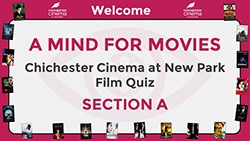 THANK YOU
We are overwhelmed by your kindness...
Walter Francisco & Henry Beltran
Henry and I wanted to once again send our personal thank you to the many messages from the heart that we have received from our patrons over the last two weeks. At a time when there are so many issues in our world, led of course by this current Coronavirus situation, many of you have taken the time to email and wish us the best through this financially difficult time for the cinema.
Your support over the last few years has prepared the Cinema for a difficult moment like this... and for that, we will be forever grateful. We have spent the last week processing refunds, and the number of you who have asked for us to keep the money as a donation has been inspirational.
If you would like to refund your tickets to a donation, please email the cinema box office on info@chichestercinema.org and request for this to be actioned. Henry, Ninian, Nina and Eleanor will gladly do so. If you would like a Credit Note or Refund, please email the Box Office in the same way, and we will gladly do so.
You may also just want to offer a donation to the cinema, as many of you have asked about. We have added a Donate button to our home page, or you can simply click the image below:







*****************************************************



Public Announcement - 17th March 2020:

CINEMA CLOSED FROM FRIDAY 20 MARCH




As you know, the Prime Minister's daily COVID-19 (Coronavirus) briefing on Monday 16th March, advised that we stop all "non-essential social contact" with particular emphasis on large social gatherings.

It goes without saying that the health, safety and wellbeing of our patrons, staff and volunteers is paramount therefore the board, led by Chair, Debbie Ford, and Cinema Manager, Walter Francisco, have taken the decision to close the cinema with effect from Friday 20th March, 2020 until further notice.

We will be cancelling all screenings and will be in touch directly with patrons that have already booked tickets from the 20th March onwards. We will of course be offering refunds, however, if you would prefer a credit note to use on a future date when we re-open this is also an option. We thank the many patrons today who have offered their refund as a donation to the cinema.

The Cinema team will still be on-site for a limited time, (yet to be confirmed) to process and cancel advance bookings and to answer any of your questions by telephone or email.

We are currently planning for a 12-week closure, but we will be guided by advice from the World Health Organization (WHO), Public Health England (PHE) and the UK Cinema Association (UKCA) and if we can re-open sooner, then we will plan for that and keep you informed too.

This next few months will prove to be very challenging financially for a number of small businesses and charities like ourselves, however we'd like to reassure you that we will be paying our staff throughout this period of closure.

Once again, thank you for your kind messages and support to date with regard to these unusual circumstances, stay safe and healthy and we look forward to welcoming you back to the movies very soon.

Our very best wishes go out to you and your families.

Debbie Ford - Chair of the Board
Walter Francisco - Cinema General Manager
17th March, 2020








*****************************************************

Public Announcement - 13th March 2020:




As a valued patron of our cinema, we just wanted to update you on how we are monitoring the ongoing impact and risk regarding COVID-19.

It goes without saying, that the safety and health of our patrons and staff is paramount and, working with the management team of New Park Centre, we have already put the following measures in place:

- Issued guidance to all staff and volunteers on prevention, with particular emphasis on the importance of frequent and correct handwashing
- Hand sanitiser has also been provided for Staff and Volunteers
- Additional cleaning to high contact points

Walter and the cinema Board will follow and monitor official guidance from Public Health England and will keep you informed accordingly.

In line with current guidance, the government has not advised the cancellation of events or public gatherings and so Chichester Cinema at New Park intends to continue operating as usual unless this changes.

If you choose not to attend any currently programmed screening for which you already have a ticket, please contact the Box Office at least 24 hours prior to that screening and we will happily issue you with a credit note that can be used in the future.

We would also like to ask our patrons to follow sensible precautions and any advice they have been given by medical professionals or Public Health England.

We will continue to monitor the situation and will update you if anything changes. Many thanks for your understanding and for continuing to support Chichester Cinema at New Park.





Debbie Ford - Chair of the Board
Walter Francisco - Cinema General Manager
13th March, 2020