JULY UPDATE FROM THE GENERAL MANAGER
Hello Again
Dear Friends and Patrons
Now that I'm back from my short break, the Board of Trustees and I thought it would be an ideal opportunity to update you on a few things and answer some of your burning questions.
I have bumped into many of you in the town centre over the last few weeks, so we know how you are all missing your neighbourhood cinema - and we are missing showing you the best from the world of movies; but we have to get this right.
WHEN ARE YOU RE-OPENING?
I'm sure you will have noticed that some cinemas opened their doors earlier this month and while we are as keen as you are to get back to sharing some movie magic, we are very different to some of the more commercial cinemas and have different considerations to work through.
We will be able to be clearer about an opening date once we have had the opportunity to consult fully with our staff, volunteers and stakeholders and put in place a plan that makes the cinema as safe a space as possible for you.
ARE YOU DOING A DRIVE-IN?
As you know, one of the big weekends of our cinema year is our famous open air screenings in Priory Park, right now we can't do that so the next best thing is a drive-in. We've partnered up with our friends at Chichester Festival Theatre to bring you a whole weekend of movies fit for families and friends that will celebrate the best movies from stage and screen. You can see the Drive-In titles HERE.
Don't forget to make a note in your diary of the drive-in event: 28th to 30th August, at Northgate (Festival Theatre) car park.
VOLUNTEERING UPDATE
Thank you to everyone who completed the recent survey. Your suggestions and ideas have been extremely helpful for our discussions around reopening. In order to firm up our reopening plans we will be writing to all volunteers to find out your availability over the next few months and to update you on what actions we are putting in place to make your volunteering as safe and enjoyable as possible. Following your feedback, we will be updating volunteer roles and will be delivering training for everyone as we return. We are looking forward to welcoming you all to the cinema as soon as we feel it is safe for everyone.
We are always keen to welcome new volunteers into the family. If you know anyone keen to join us, please ask them to get in touch at support@chichestercinema.org.
THANK YOU FOR YOUR SUPPORT
Thank you for your ongoing support over the last few months. Our heartfelt thanks go to everyone who has, and is continuing to make donations, renew Friends membership, and send us messages of support, thank you.
As an independent cinema are committed to supporting those in our community who have been hardest hit during lockdown. Thanks to your generous donations, we will be launching a new scheme called 'Cinema in a Box', to bring some movie magic to those members of our community living in care homes, adults with specialist needs and Chichester families facing financial hardship.
Your support during lockdown has enabled us to invest in securing the cinema's future and continue to give back to the local community. If you'd like to find out more, please email support@chichestercinema.org or if you'd like to make a contribution to this project or support our reopening plans please donate below.
That's it for now, but do stay connected, we love hearing from you and we hope to see you at the movies very soon.
Walter Francisco
General Manager
Public Announcement:
A Message from the Chair of Trustees
As you will already know the majority of the wonderful team at Chichester Cinema at New Park were furloughed under the government scheme twelve weeks ago. The Board of Trustees have now decided to maximise access to the government job retention scheme by taking the opportunity to furlough our General Manager, Walter Francisco, so that he can have a much deserved rest and come back fighting fit and energised for the period ahead of us.
This means that the Cinema will close between Wednesday 10th of June and Wednesday 1st of July. During this three week period, the Box Office, Cinema and phone lines will not be manned.
By including Walter in the scheme at this stage we are able to ensure that, in common with many other independent art centres and cinemas, we retain full access to the government's financial support.
Walter has been working tirelessly on many projects, and along with the Trustees he has been preparing for the future and ensuring that your favourite cinema will open bigger, better and stronger than ever. We are yet to receive the government guidance on re-opening dates for cinemas, but it is likely that we will remain closed until the start of September at the earliest.
Since the end of March when the Cinema lights went down, we have been humbled at the level of support through donations, refunded ticket money and offers of help. Up until now we have gathered the funds raised and set them aside and we hope to use them for a specific project once we are able to open again. Between now and when we are able to re-open, we will use any donations to cover day to day running costs. If you are able to make a donation, we of course would be truly grateful - it really will make a difference for our future.
Sadly we had to reach the decision to cancel this year's International Film Festival, but you can be assured that we'll deliver a fantastic Festival in 2021. Here's some big news and a date for your diary, by now I'm sure many of you are aware of our plans to run a special Drive-In cinema weekend over the August Bank Holiday weekend in conjunction with Chichester Festival Theatre. We hope you are as excited about this as we are. The dates are 28 – 31 August, and the drive-in will run alongside other outdoor events in Oaklands Park.
The programme of films together with details of how to book, will be shared as soon as they've been finalised, and we very much hope that many of you, our valued patrons, will join us for one of the screenings from the safety of your car.
As Chair of the Board of Trustees, I would like to take this opportunity of thanking Walter, the staff and the Trustees for working so hard during the past three months to ensure that the Cinema continues running smoothly, and that we are able to be up and running as soon as we feel it is safe to do so.
And finally, I would like to thank all our patrons and volunteers who completed the questionnaire circulated towards the end of May. The suggestions and comments made by many of you have been insightful and will help to shape not only our re-opening plan, but have offered us some ideas for the future that'll make our cinema even better and accessible to all.
Above all, it is marvellous to be so aware of the support behind Chichester Cinema at New Park, and it means that we are all reassured and excited about the future.
Keep well and safe, and if you'll allow me to (cheesily) paraphrase Arnold Schwarzenegger 'we will be back!'
All the best, Debbie Ford
Chair, Chichester Cinema at New Park
PS we'll continue sharing some viewing tips on our Facebook channel too
Public Announcement:
CINEMA CLOSED - Box Office Announcement
In the light of the Prime Minister's national directive on the evening of the 23rd March, our Cinema and Box Office has suspendedall activity. All Patrons holding cinema tickets for cancelled screenings are assured of a credit note or refund, or if you prefer, a to donate your refund to the cinema.
Please do not come to the Box Office as the New Park Centre is closed to the public.
If you have not returned your tickets yet, please be patient as we will be able to deal with this when we return... although that date is at the moment undefined. We will keep you updated through our mailing list emails and through this website page.
CINEMA COMFORT BLANKET
Please join our Weekly Email List to keep updated on all things New Park Cinema during this closedown, and get ideas on what to watch at home when you can't be watching your favourite films at your favourite cinema.
Thank you for your patience and support.
Stay Safe.
FILM QUIZ
Here is a 3-Part quiz to get you through the shutdown.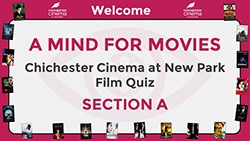 ...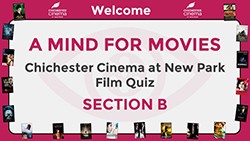 ...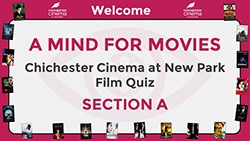 THANK YOU
We are overwhelmed by your kindness...
Walter Francisco & Henry Beltran
Henry and I wanted to once again send our personal thank you to the many messages from the heart that we have received from our patrons over the last two weeks. At a time when there are so many issues in our world, led of course by this current Coronavirus situation, many of you have taken the time to email and wish us the best through this financially difficult time for the cinema.
Your support over the last few years has prepared the Cinema for a difficult moment like this... and for that, we will be forever grateful. We have spent the last week processing refunds, and the number of you who have asked for us to keep the money as a donation has been inspirational.
If you would like to refund your tickets to a donation, please email the cinema box office on info@chichestercinema.org and request for this to be actioned. Henry, Ninian, Nina and Eleanor will gladly do so. If you would like a Credit Note or Refund, please email the Box Office in the same way, and we will gladly do so.
You may also just want to offer a donation to the cinema, as many of you have asked about. We have added a Donate button to our home page, or you can simply click the image below:







*****************************************************



Public Announcement - 17th March 2020:

CINEMA CLOSED FROM FRIDAY 20 MARCH




As you know, the Prime Minister's daily COVID-19 (Coronavirus) briefing on Monday 16th March, advised that we stop all "non-essential social contact" with particular emphasis on large social gatherings.

It goes without saying that the health, safety and wellbeing of our patrons, staff and volunteers is paramount therefore the board, led by Chair, Debbie Ford, and Cinema Manager, Walter Francisco, have taken the decision to close the cinema with effect from Friday 20th March, 2020 until further notice.

We will be cancelling all screenings and will be in touch directly with patrons that have already booked tickets from the 20th March onwards. We will of course be offering refunds, however, if you would prefer a credit note to use on a future date when we re-open this is also an option. We thank the many patrons today who have offered their refund as a donation to the cinema.

The Cinema team will still be on-site for a limited time, (yet to be confirmed) to process and cancel advance bookings and to answer any of your questions by telephone or email.

We are currently planning for a 12-week closure, but we will be guided by advice from the World Health Organization (WHO), Public Health England (PHE) and the UK Cinema Association (UKCA) and if we can re-open sooner, then we will plan for that and keep you informed too.

This next few months will prove to be very challenging financially for a number of small businesses and charities like ourselves, however we'd like to reassure you that we will be paying our staff throughout this period of closure.

Once again, thank you for your kind messages and support to date with regard to these unusual circumstances, stay safe and healthy and we look forward to welcoming you back to the movies very soon.

Our very best wishes go out to you and your families.

Debbie Ford - Chair of the Board
Walter Francisco - Cinema General Manager
17th March, 2020








*****************************************************

Public Announcement - 13th March 2020:




As a valued patron of our cinema, we just wanted to update you on how we are monitoring the ongoing impact and risk regarding COVID-19.

It goes without saying, that the safety and health of our patrons and staff is paramount and, working with the management team of New Park Centre, we have already put the following measures in place:

- Issued guidance to all staff and volunteers on prevention, with particular emphasis on the importance of frequent and correct handwashing
- Hand sanitiser has also been provided for Staff and Volunteers
- Additional cleaning to high contact points

Walter and the cinema Board will follow and monitor official guidance from Public Health England and will keep you informed accordingly.

In line with current guidance, the government has not advised the cancellation of events or public gatherings and so Chichester Cinema at New Park intends to continue operating as usual unless this changes.

If you choose not to attend any currently programmed screening for which you already have a ticket, please contact the Box Office at least 24 hours prior to that screening and we will happily issue you with a credit note that can be used in the future.

We would also like to ask our patrons to follow sensible precautions and any advice they have been given by medical professionals or Public Health England.

We will continue to monitor the situation and will update you if anything changes. Many thanks for your understanding and for continuing to support Chichester Cinema at New Park.





Debbie Ford - Chair of the Board
Walter Francisco - Cinema General Manager
13th March, 2020