…
by Sue Gilson and Joseph Gilson
Mon 27 Aug
On reflection...
Bereft now, obviously, with the film festival over for another year.
But what a way to end with the closing gala film 'C'est La Vie' delighting a packed auditorium. I don't think I have ever heard so much laughter for a film at New Park. The wine had been flowing at our pre-film meal at Brasserie Blanc though...
We diners were lucky enough to find out from artistic director Roger Gibson the top films as voted for, via the cinema's sophisticated marble-in-pots system, by festival goers. And the top tens in the categories will no doubt be revealed by the cinema team in due course.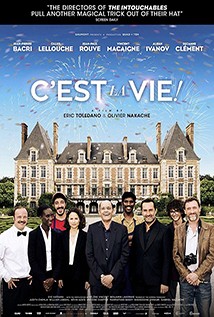 Meanwhile I have been reflecting on my own festival highlights.
1 Just being there! As soon as the curtain rises on the festival I feel such a sense of anticipation for all the big screen brilliance to come. And it never disappoints.
2 The warm welcome from all the staff and volunteers. Bravo to them all for delivering another fantastic festival which is a major feat.
3 The incidental conversations with other festival goers with film recommendations swapped and opinions shared. Always a joy to meet other film fans and to know what inspires them.
4 Sitting with my son Joe (who joined me on the blog) in the auditorium as 'Lucky' started and knowing immediately it was going to be a treat. What a last role for the 91-year-old Harry Dean Stanton (who had some impressive yoga moves!).
5 The Cornish seascapes and brooding atmosphere of the only adaptation of Virginia Woolf's 'To The Lighthouse' ever made (in 1983 by the BBC).
6 How heartening it was to join with a whole auditorium of Remainers in the anti-Brexit film 'Postcards from the 48 percent'. I didn't know I needed that but I did.
7 The window onto unfamiliar worlds including Nazareth in the excellent Palestinian offering 'Wajib'.
8 The awe-inspiring beauty in black and white of intense love story 'Cold War'. Director Pawel Pawlikowski's cinematic vision for every frame is genius.
9 The impossible good looks and passionate pairing of Marlon Brando and Eva Marie Saint in 'On The Waterfront'. A joy to behold.
10 The understatement of films including 'Leave No Trace', 'Summer 1993' and 'Wajib'. In dealing with the big themes, less was more.
It has been a pleasure to share my festival experience with you. I hope you have enjoyed the blog and see you next year!
By Sue Gilson
-------------------------------------------
Sun 26 Aug
Two treats from the final festival weekend
Just where does the time go?
The festival really does seem to have a ticking clock all of its own.
At some points, when you are totally immersed in the whole thing, gliding from film to film without a moment's thought for the outside world, time can seem blissfully suspended. But then, bam, the final weekend rushes up and it all seems to have whizzed by.
The panic can set in with what's left to see, and films sadly missed. But if the chats in the bar these last few days are anything to go by, festival goers are already scouring the autumn programme and booking those films that have been getting big licks.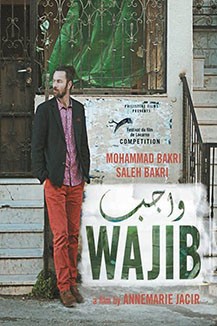 I can thoroughly recommend two films I managed to squeeze in on Saturday - 'Wajib' and 'Arcadia'.
The Palestinian offering 'Wajib' was a simply constructed road movie in a day focussing on a father and son who drive around Nazareth handing out wedding invitations as is the custom. Much is revealed about their relationship, as it ebbs and flows over the hours they spend in the car and in the homes of a colourful cast of characters, and the politics that affect them all in different ways.
Not much happens, and this didn't go down so well with at least one film goer who gave it two stars, but the film, I feel, is all the better for that.
In contrast, a lot unfolds in the atmospheric 'Arcadia' and much of it dark and disturbing, which I wasn't expecting. An ode to our changing relationship with the land over a hundred years, this is a mesmerizing collage of the film from rare and unseen archive footage of nature and man - I say man, but it is infused with the feminine - and how they co-exist through farming, rituals, hardships, traditions, seasons and more.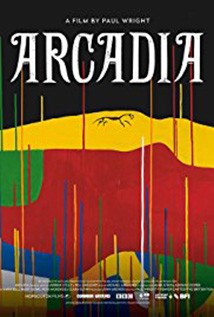 The soundtrack, which my husband, who knows a thing or two about music, felt could have provided a stronger rhythm to the piece, came courtesy of a Goldfrapp and Portishead collaboration.
The next blog post will be the last - a reflection on the festival as a whole and our personal highlights! Perhaps they will include yours too?
By Sue Gilson
-------------------------------------------
Thu 23 Aug
If you went down to the cinema yesterday, you were sure of a big surprise…
Roger Gibson remains tight-lipped as he introduces this year's surprise film at the 27th Chichester International Film Festival. The festival's Artistic Director had only assured us it was not a major release and, cue sighs of relief from most, not a new Woody Allen venture.
The room goes dark and names of French directors, screenwriters, producers roll across the screen. My father leans across the arm rest and whispers: "French… Good." Suddenly, a majestic aerial shot of what appears to be a maze. As the camera descends towards the smoke-covered surface of this world, we realise it is an intricate labyrinth of trenches – the First World War. Father leans across his glass of Merlot once again. "History," he says this time, and nods his head in approval.
It is 'Cessez-Le-Feu', or 'Ceasefire', a film by director and writer Emmanuel Courcol. Originally released in 2016 and made, perhaps, to coincide with the hundredth anniversary of the end of the "The Great War", the film tells the story of Georges Laffont, played by Romain Duris, and his inability to return to his former life after the world-shattering trauma of the war.
This is where we find him, amongst the cacophony of the trenches, the shells dropping around the camera deafeningly loud and claustrophobically close, blasting up dirt high in the air so that we too are covered by the falling debris. Chaos reigns. The camera, with its visceral tracking shots, acts as our vessel to explore this terrain. As it follows Georges round corners and through the mist, we follow too, almost as one of his soldiers, in a first person point-of-view.
It is a pity that the film doesn't stay as this intimate, sensory experience. For, as soon as we arrived in the trenches, we are transported away, to quaint post-war Nantes, where Georges' brother Marcel is being coaxed out of his shell to dance with a girl at a party. He is a war veteran himself, rendered deaf and mute by his service.
And then, suddenly, to Africa and the Upper Volta, where Georges is hiding from his past life back in France. Most of the beauty in 'Cessez-Le-Feu' comes from the scenes in which Georges and his travel companion Diofo sail down African rivers in their small hand built vessel, with the sun in their eyes but a threat of violence lurking just on the other side of the banks of the river. Here you can recall perhaps 'Apocalypse Now' or even 'Aguirre, Wrath of God'.
But soon, we are back in Nantes again and Georges is attempting to reconnect his fragmented family but only succeeding in tearing it further apart. His family isn't the only thing that is fragmented. So is the narrative, which often lurches into the realm of apathy. Past dramas are alluded to but never expanded upon, Marcel's condition is even less explored, and there is an implausible relationship between Georges and Marcel's sign language teacher Helene. It all adds up to somewhat of a disappointment, a patchy canvas perforated with small but insignificant flashes of beauty. Like too many important moments fell to the cutting room floor.
"Shame," says father, as we exit the cinema to a sumptuous Chichester evening, "It had all the hallmarks…"
By Joseph Gilson
-------------------------------------------
Wed 22 Aug:
How Lucky We Are (To Have Had Harry Dean Stanton)
Lucky lives a life we often crave but ultimately fear. Every day he practices doing nothing. Wakes up, smokes a cigarette, twenty minutes of pelvic thrusts he somehow calls yoga, does the crossword in the local diner, watches gameshows in his lonesome house, and finally props up the bar at a local tavern, sipping on a bloody martini and discussing the fleeting nature of all things with his band of eccentric, greying friends. His only responsibility is his own mortality. No kids, never married. Well, perhaps only to his atheistic outlook.
His is a life stuck on a loop, hopelessly comfortable in his own routine but finding morsels of significance in his everyday. He wanders about his small desert town, of which the population all seem to know his name, like an old marionette you would find in the attic, long past its use by date. All splinters, brittle wood, ungainly, angular movements. Just like an old toy retrieved from the forgotten corners of the past, however, Lucky – played majestically but humbly by the late Harry Dean Stanton, so affecting that this was his last role – gains a new lease of life when his doctor simply tells him that there is nothing wrong with him, he is just old.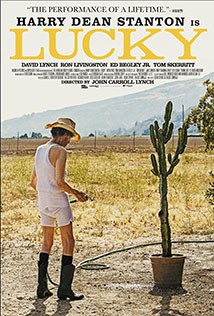 There's no huge revelation, no spiritual epiphany. No, simply, he begins to look at his life and the world a little differently. In the last leg of his long race he fosters a new-found innocence. His eyes widen, he lets people in. And it infects his friends around him too. Howard, his drinking buddy played by David Lynch, loses his pet tortoise President Roosevelt. After several days of mourning he accepts that his pet's journey may just be out there, rather than back here. And anyway, if he ever wants to return, he'll know where to find him.
There are so many moments of poignancy and lyricism in this moving film from debut director John Carroll Lynch. From the red phone that Lucky has in his home, into which he speaks his innermost fears to the unknown listener on the other end, to the song he sings in Spanish at his friend's son's birthday party, to the monologue he speaks to his friends in the bar - that resembles God's waiting room more and more as the film goes on – in which he makes every single person who listens glad to be alive and grateful for the small fragment of the world the share with each other. Lucky smokes another cigarette and leaves the bar, off into the great unknown.
There is a word of Japanese origin: Boketto, meaning to gaze into the distance without really thinking of anything at all. Throughout Lucky, our titular hero's eyes are pointed towards the unseen, beyond the frame of the camera, and aimed somewhere in the red brick landscape that surrounds his home. It's not that he isn't thinking of anything though, it's maybe just that he hasn't thought of it yet. We can only guess as to whether it came to him, as he lopes off towards that distance, those awkward marionette legs tripping over the horizon.
By Joseph Gilson
-------------------------------------------
Wed 22 Aug:
Out of the sun, and into the murk!
On a sun-drenched late summer day it can often feel an odd thing to do to be heading into a darkened room to see a film.
But who needs the beach or the park when you can be transported to the murky, oppressive, mob-run docklands of 1950s New York?
So it was with Oscar-laden classic 'On The Waterfront' this week, with a packed studio audience pinned to their seats by what felt like the sheer force of the electrifying storyline and performances - a smouldering Marlon Brando in his seminal role - and, of course, Leonard Bernstein's score.
It was the only score the legendary musical maestro, whose centenary is being extensively celebrated at the festival, composed for a movie but, boy, does it capture, and indeed set, the scene.
Blinking back into the sun when the credits rolled after such a powerful punch was a tad disconcerting to say the least.
Scene setting is something Charles Garrad also knows a thing or two about.
With a background in architectural environments - which he describes as 'sets without actors' - he went on to production design.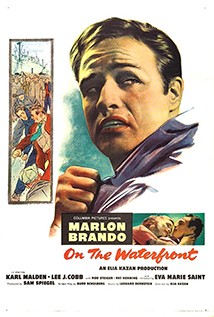 And the visiting festival director has brought that breadth of experience to his lyrical, atmospheric mystery drama - 'Waiting for You' - that he is delighted to be hosting at New Park on Thursday (23).
If you saw 'To The Lighthouse' last weekend you will have heard screenwriter Hugh Stoddart introduce the film. Well, Hugh joins Charles on Friday as the film's writer/co-creator.
And it will be very interesting to hear from the duo on how this disturbing and intriguing tale of a man's mission to unlock the secrets of his father's past came about and unfolded.
On a budget of £900,000, it took them from London to a small town on the edge of the Cevenne Mountains in the south of France. The father was in France during the war and a melancholic musician, the potentially dangerous Madeleine, may hold a vital key.
"The film is driven by atmosphere as much as dialogue," Charles tells me, "and that relates back to my artwork and my work as a production designer.
"I love cinema for its physical presence and its ability to tell stories without words. I relish the possibilities of sound and the chance to play with time that directing a film allows me.
"There is a 20 minute section in the film where not a word is spoken which I am proud of."
Inspiration for Charles has come primarily from films where individuals grapple with small but significant details to solve big problems, in quite confined spaces: Bresson's 'A Man Escaped', Hitchcock's 'Dial M for Murder', and Herzog's 'The Enigma of Casper Hauser'.
If Charles sounds like a man after your own heart, see him and his film in the studio at 1.30pm.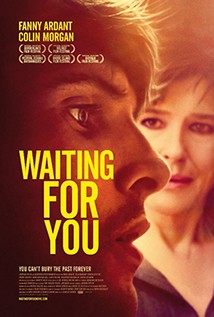 Good luck out there, and see you at the cinema!
Sue Gilson
-------------------------------------------
Sun 19 Aug:
A Homegrown Take on Nordic Noir
Chilly climes and brooding landscapes have been thrilling fans of Nordic Noir at New Park.
The festival's retrospective from Iceland, Sweden, Norway and Denmark has brought a dark, atmospheric edge.
And this genre has had a dramatic impact too on the director of a psychological thriller previewing this week, with its roots closer to home.
Acclaimed Danish crime drama thriller 'The Killing' has been "a big influence" on Dom Lenoir, who brings his award-winning 'Winter Ridge' to New Park on Saturday, August 25, at 6.15pm.
But he has found his forboding backdrop on the edges of Exmoor in Devon, with his debut feature filmed on location in Lynton and Lynmouth in just 17 days. With a budget of just £500,000 this speed was borne out of necessity.
He scoured the country before settling on this part of the West Country with its "black rocks and river cutting through the town" having dismissed neighbouring Cornwall as too TV familiar from the likes of 'Poldark'.
Dom, who is originally from the south coast of England, is 31 this week and couldn't be happier, he tells me, celebrating it with an outing to the festival for a Q&A with some of the cast, including lead actor Matt Hookings, the detective of the piece, who throws himself into a murder investigation as his wife lies in a prolonged coma.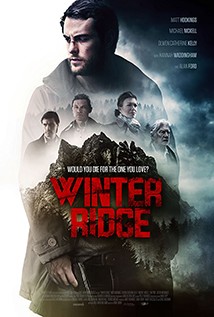 "It is absolutely fantastic to be coming to Chichester. I grew up between Portsmouth and Southampton and have often been to Chichester and West Wittering beach. Never to the cinema though," he says.
Unusually for an independent film, he has managed to secure a 30 cinema release starting in early September and taking in Portsmouth (at Portsmouth Film Society on September 18) and Brighton.
It is a very personal project for Dom, as the film touches on the ever-increasing incidence of Alzheimer's and dementia in the elderly with his grandmother who suffered failing lucidity, memory loss and outbreaks of confusion uppermost in his mind.
"It ties in with the psychological aspect of the film," he explains. "I don't make films just to entertain," he explains. "For me a film has to have meaning - a purpose, message or impact. I am always looking for dramatic effect."
Winter Ridge has won 8 awards across 6 festivals, including Best UK Independent Feature at the London Independent Film Festival 2018, and stars 'Game of Thrones' actress Hannah Waddington and Alan Ford ('Snatch', 'An American Werewolf in London') so arrives with much promise.
Good luck out there, and see you at the cinema!
Sue Gilson
-------------------------------------------
Sat 18 Aug:
The Old and the New
A whole treasure trove of wonderful archive films are there to be discovered - or rediscovered - at the festival.
There's been much rhapsodising over sparkling silent movie classic 'Pandora's Box, starring the alluring Louise Brooks, and the Ingmar Bergman centenary tribute offerings are a gorgeous gift to film fans. Transformative experiences all.
I felt privileged too to watch for the first time Lindsay Anderson's ground-breaking 'If...', and to be in the presence 50 years later of one of its young actors.
David Wood, who played one of the rebels in a brutal boarding school in the 60s, a microcosm of society at the time, was an esteemed festival guest, introducing the film and taking a Q&A, and still looked impressively boyish.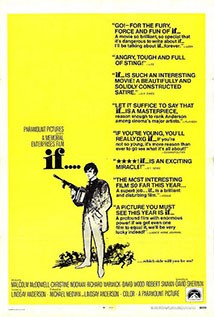 There are times though when the urge hits for a new film, and I managed to strike gold with three this week - two American and one Spanish.
They all had in common nuanced performances and an understated tone despite their huge, troubling themes. It was to all of the films' credit that these themes remained in the background, surfacing in a very subtle way but all the more powerful for that.
Two were set, bizarrely enough, in the same year - 1993: new Spanish release 'Summer 1993' and 'The Miseducation of Cameron Post', a preview from the US. The other was also American: 'Leave No Trace'.
They deal with, respectively, AIDS and grief, sexual identity and homophobia, and post traumatic stress disorder and coming of age - big stuff brought down to a very human level with cathartic endings.
The acting too by the very young children in 'Summer 1993' and the early teen star of 'Leave No Trace' was astonishing.
On our cinema review board 'Summer 1993' has been given 5 stars by one festival goer who proclaimed it 'perfect on every level. Truthful, compelling, lyrical'. Quite. If you have missed any of these films, catch them when they must surely be brought back in the autumn season.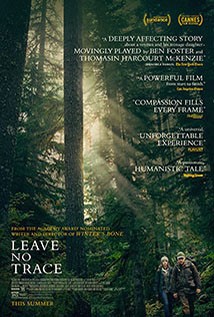 P.S. I am told that Steve Coogan, who was at the cinema for a Q&A after 'Philomena' on Friday, was quite unrecognisable with his long grey hair and full beard. I am disappointed no-one asked him if this was a new look or for a upcoming film role.
Good luck out there, and see you at the cinema!
Sue Gilson
-------------------------------------------
Mon 13 Aug:
Wonderful Woolf and bloody Brexit
How heavenly - as Mrs Dalloway was fond of saying - to immerse oneself in the world of Virginia Woolf this first festival weekend.
It may have been drizzly outside but inside - where life can sometimes, wonderfully, seem put on hold as the festival unfolds - I was losing myself in Cornish seascapes ('To The Lighthouse') and sumptuous house parties ('Mrs Dalloway').
It was a deliberate move to go full-on Woolf and I managed too the illustrated talk by Rosemary Coxon which focused on 'Mrs Dalloway', released in 1998 and starring Vanessa Redgrave, and 'The Hours', the excellent 2002 film of how that novel affected three generations of women.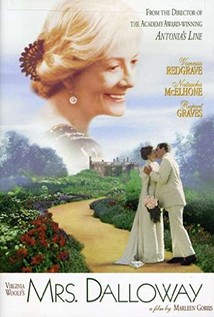 For Woolf fans, and there were so many of us, packing out the studio and the main auditorium, it was very exciting to hear first hand from festival guests about the making of these films.
'To the Lighthouse' screenwriter Hugh Stoddart, who was in the house, was revisiting the film 35 years on.
It was the first ever film made, he told us, of a Woolf novel, and the BBC insisted it couldn't be done.
Hugh persisted, and he showed them that Woolf's seminal modernist, and feminist, offering could absolutely be adapted for the screen.
And the result is mesmerising, impeccably cast - featuring a young Kenneth Branagh as a proud student simmering with resentment - and capturing beautifully the brooding nature of the novel.
As I was enthusing about the film to a friend sitting drinking tea in the corridor at New Park, as you do, a man with a bold blue check suit and impressive beard overheard and told me he produced 'To the Lighthouse'!
David Wilkinson also introduced 'Mrs Dalloway', bringing huge apologies from his friend Dame Eileen Atkins - acting royalty! - who was due to attend but had to work.
As a young woman, and spurred on by Vanessa Redgrave, she wrote the screenplay.
"Eileen is deeply, deeply upset that she couldn't come today," he said. "This film is so personal to her, she's obsessed with Virginia Woolf, and her husband produced the film. It was the only film he made and it was a labour of love."
He went on to say that Eileen put up her house against the loan for the film so could have been homeless had it not been successful.
"She's 84 now and she was upset not to be here because she felt it would probably be the last time she would have had the chance to watch it with an audience in the cinema," he added.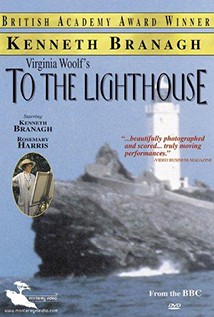 The hard-working David was also the director of 'Postcards from the 48%', another sell-out. I wasn't sure whether I could face watching this, the festival giving me a respite from ongoing Brexit chaos in the real world, but so glad I did.
Far from making me feel more angry and frustrated as one of the 48% - one of the 16 million - who voted Remain in the 2016 EU referendum - I felt solidarity with and heartened by the views of the likes of Bob Geldof, Ian McEwan, Patrick Stewart, Miriam Margolyes - who lives atop the white cliffs of Dover where David started his journey around the UK sampling opinion and gathering facts - and countless others in the same camp.
OK, so it was preaching to the converted in Chichester - with no-one in the audience voting Leave, or at least owning up to it - but David is doing his damnedest to get the film and its powerful message out there.
He didn't want anyone who voted Leave to work on the film, he said. One graphic designer objected to this saying it was illegal by EU law. Oh the irony...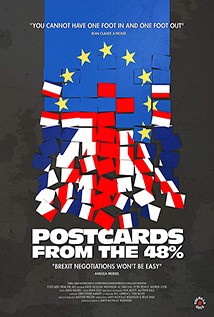 P.S. It was festival artistic director Roger Gibson's birthday on Sunday with friends and family gathering at the cinema, which he has built up from a humble film society over more than 40 years, to sing 'For He's a Jolly Good Fellow'. He certainly is. We film fans owe him so much.
Good luck out there, and see you at the cinema!
Sue Gilson
-------------------------------------------
Sat 11 Aug:
The first five star review!
Questions of faith were cropping up at the festival on Friday evening via two very different films.
One woman came out of 'Apostasy' - one of two festival offerings exploring Jehovah's Witness issues, the other 'The Children Act' - clearly deeply affected. She promptly gave it five stars - the first top rated review on the comments board in the bar! - and said she was going home to try and take it all in.
Meanwhile Monty Python fans were gathering to always look on the bright side of life in Terry Jones's brilliantly blasphemous 'Life of Brian', a sell-out I was told.
No doubt they had a blast, and hats off to Canon Dr Anthony Cane from Chichester Cathedral for braving questions at the end! Now that's the sort of church community involvement I thoroughly approve of.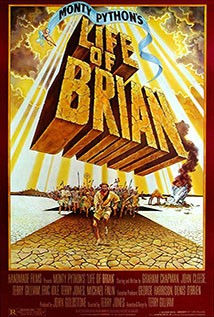 I opted for a UK independent preview - 'Tides' by the very personable director/writer Tupaq Felber, who was a festival guest.
It was great to see the studio full for this ensemble piece following four friends on a canal boat break as one deals with a death that is still very raw.
Shot over three days in Surrey, at a cost of £4,000, this was a bold, almost real time film, with largely unscripted, naturalistic dialogue.
It was bold too to make it in black and white, filmed, Tupaq explained, digitally but with use of an antique lens, and this worked so well in creating an atmosphere.
He clearly has a very cinematic eye as there were some incredibly beautiful monochrome moments - vapour trails against a late afternoon sky, fluttering patterned curtains against the passing scenery, and stunning silhouetted trees.
The beauty was commented on in the Q&A, but the swearing spoilt things for one audience member.
She thought the film, which was premiered at the BFI London Film Festival 2017, would have been much more profound without all the profanity but admitted this could be "an age thing, or a Chichester thing".
Tupaq's mother, we were told, had said the self same thing, adding that she would have hated to have been on the canal boat with those people!
Expletives aside, it will be very interesting to see what her son turns his hand to next.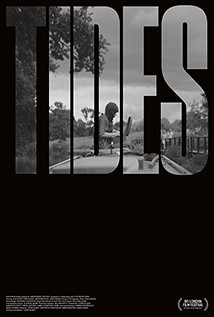 P.S. My son Joe, who has an MA in Film Studies and knows far, far more than me, will be joining me on this blog when he can. No pressure Joe!
Good luck out there, and see you at the cinema!
Sue Gilson
-------------------------------------------
Thu 2 Aug:
Hooray - and eek - it's here!
Oh the delicious anticipation of it all. And the mild panic!
As the cameras prepare to roll on the 27th Chichester International Film Festival there is absolutely no time to lose.
With the beautiful glossy, perfect bound brochure now in my hot hand, I must get focused on what not to miss and how to fit in as many films as I can without life - pesky life! - getting in the way.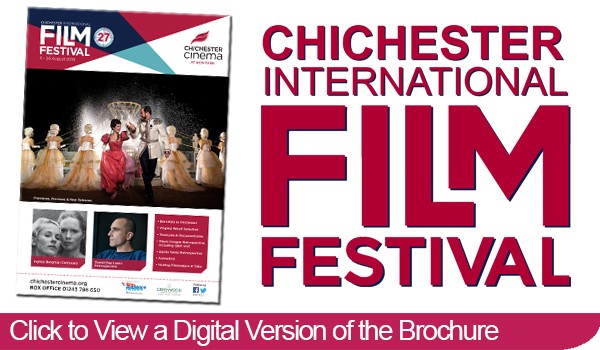 I don't know about you but I don't want to be bothering with what's for dinner or getting the washing hung, or even going to work, when there is the promise of something very special on offer in the darkened auditorium.
Who needs more sun when a Nordic Noir is hitting the screen, or an Ingmar Bergman epic from the centenary tribute? Or a Virginia Woolf adaptation? Or one of a plethora of indy gems? Or a Leonard Bernstein ballet? I could go on. And on.
The programme is brilliant of course, as it always is, with 137 films - premieres, gala screenings, documentaries, animations, independents and archive classics among them - showing at our three charming venues.
Luckily esteemed artistic director Roger Gibson, who travels to film festivals around the world to bring us this incredible annual line-up, was on hand this week to help us with our all important choices.
He hosted the festival launch to a packed cinema and showed an enthralling variety of appetite whetting clips.
And what a joy it was, and a relief in these strange, troubling, border protecting times, to have a glimpse of other worlds, other cultures and other beliefs. To tap into the creativity of other countries and to feel how flourishing that is.
Thank goodness for film, I say, to allow us to immerse ourselves in this way.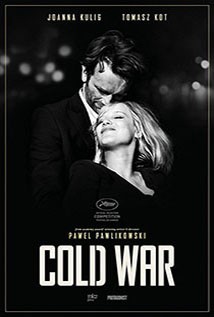 From Roger's clips I immediately felt compelled to book the stunning, monochrome 'Cold War' from the Polish director of 'Ida', one of my favourite films of recent years, 'Mrs Dalloway' with Vanessa Redgrave (with its screenwriter Eileen Atkins - Eileen Atkins! - coming to introduce the film), the powerful 1968 Palme D'Or winning 'If...' from Lindsay Anderson, and opening gala film 'Matilda' from Russia, which looks sensationally sumptuous, dramatic, passionate, opulent and other superlatives. What a festival curtain raiser!
Roger said he had been tracking 'Matilda' down for the two years since it had opened to huge controversy in Russia.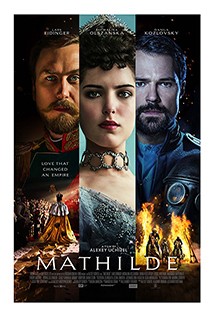 He urged us to take a punt on not just the big hitters, which would be making a return to the cinema at some point, but on the indy offerings too, which probably wouldn't.
And a tip from the top - he said the very intriguing looking 'Eyes of Orson Welles' was the best documentary he had seen on his recent film-finding jaunts.
So time to go, film lovers, and plan your own personal festival journey whether that takes you from Monty Python to 'My Beautiful Launderette', from 'Tom Jones' to 'The Trip to Italy' or indeed from 'Paris, Texas' to 'Pandora's Box'.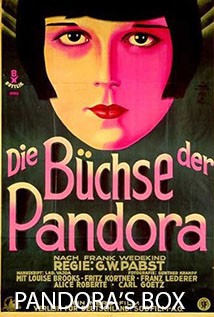 Good luck out there, and see you at the cinema!
Sue Gilson