The physical version of the Programme Brochure for the 2021 Early Winter Season at Chichester Cinema at New Park will reach our doors on Tue 9 Nov.
But until then, you can see all films as usual
or you can 'digitally' flick through the virtual
Click on the Full Screen icon at the bottom right of the Issuu viewing window (Frame icon) for the best view of the programme.
Highlights include:
Spencer –
During the Christmas holidays at Sandringham, Diana decides to leave her marriage to Prince Charles. Chilean director Pablo Larraín directs the magnetic Kristen Stewart in the lead. 
The Power of the Dog –
Jane Campion's long-awaited return to big-screen film is an unflinching western that ripples with prickly tension, with Benedict Cumberbatch as a hard-bitten rancher.
Mothering Sunday –
Set mostly over a hot and sultry day in 1924, for Jane Fairchild, a maid in the Niven household, this will be her last day with her lover before he marries another.
The Hand of God –
The story of a boy in the tumultuous Naples of the 1980s. Paolo Sorrentino's ('The Great Beauty) most personal film yet is a tale of fate and family, sports and cinema, love and loss.
The Colour Room –
Follows the journey of a determined, working-class woman, Clarice Cliff, as she breaks the glass ceiling and revolutionises the workplace in the 20th Century.
House of Gucci –
Ridley Scott brings us three decades of love betrayal, decadence, revenge and ultimately murder with an all-star cast. 
Encanto –
A young Colombian girl has to face the frustration of being the only member of her family without magical powers.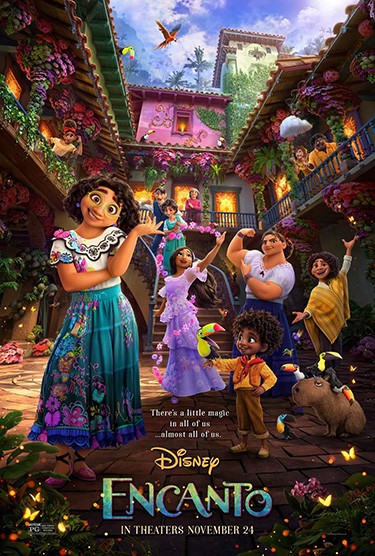 West Side Story –
The classic musical gets the Spielberg treatment – fierce rivalries and ill-fated romance clash in steamy 50s New York.

PLUS… The Berlin Golden Bear Winner; The Cannes Palme D'Or Winner; 12 more French Film Festival UK films; Documentaries on Couusteau, JFK and Frida Kahlo; Five Christmas treats; and so much more.